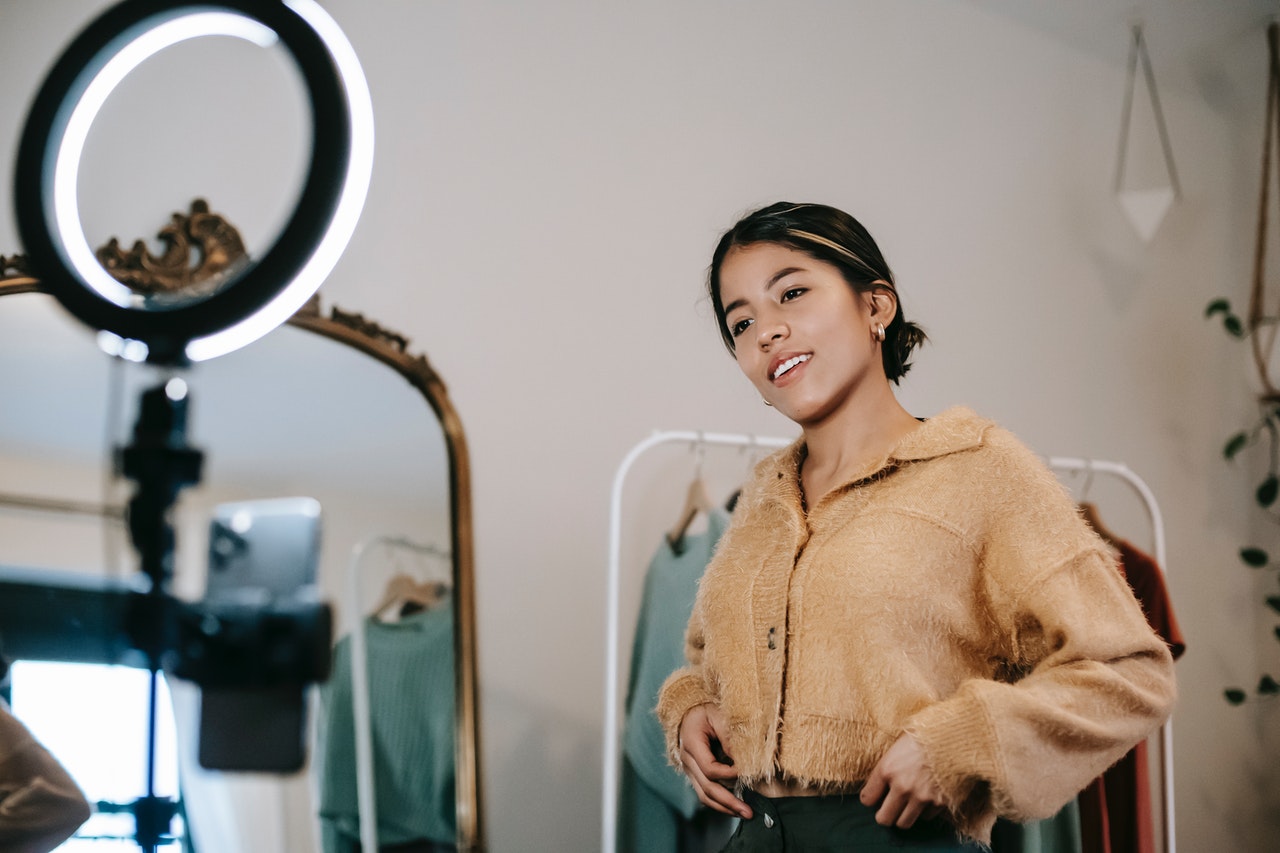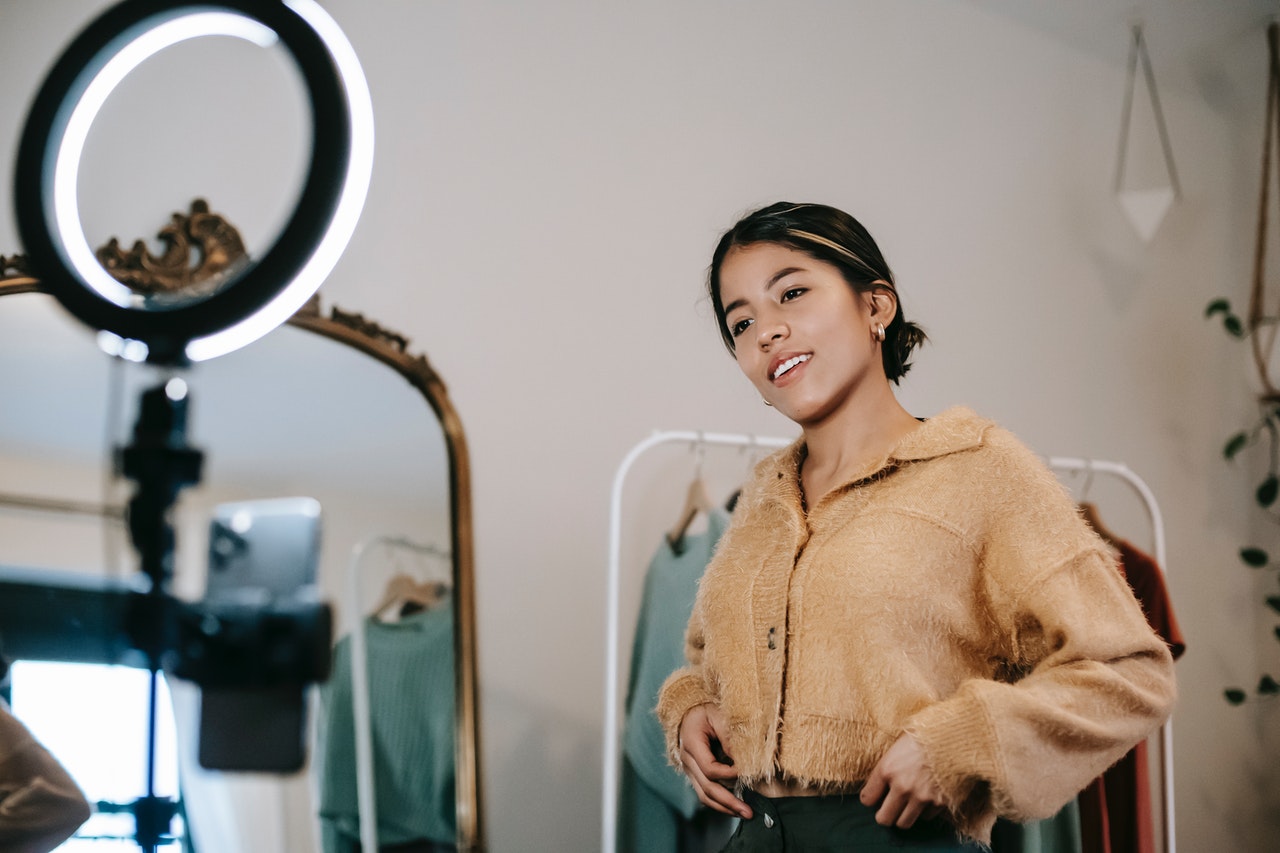 Are you familiar with the selfie light? If No? Let's change that, shall we? The selfie light, also known as a ring light or an iPhone light ring, is a necessary tool for taking the best possible pictures to use on social media. Next to editing apps, a microphone, a good backdrop, and a selfie stick, the ring light for iPhone is a useful tool that every influencer or aspiring social media queen should have. We will tell you everything about the selfie light and how influencers use this in their work.
What Is A Selfie Light?
Selfie lights are a light ring that is specifically meant for use on your smartphone. The light ring is made up of small LEDs. You can place the light over your phone camera by clipping it onto your phone. By using specific settings, you create the perfect lighting for all types of photos.
Most selfie lights have the following settings: warm light, cold light, and warm-cold light. You can choose the setting you prefer and adjust the intensity of the light to your liking. There are different types of selfie lights out there, so you can also choose a ring light for iPhone, or any other smartphone, with other light colors for special effects.
How To Use The Selfie Light
Using the selfie light is as easy as it seems. You click the ring light onto your phone, around your camera, and set the lighting to your liking. Test the lighting out by taking a picture to see if it is what you want it to be. After that, you are good to go. You can use the selfie light for pretty much any picture on any location. It always provides the best possible lighting without creating lines or shades. Get creative and get surprised!
Charging the iPhone light ring is just as easy as using it. You don't need any batteries for it, you simply charge it with the USB. A USB cable is mostly included in the package. Just make sure your light ring is always fully charged and you are ready to snap a good selfie whenever you want. The light ring is small enough to fit into any bag so you can always carry it with you, wherever you go.
How Do Influencers Use The Selfie Light?
It's all in the name: the selfie light is used a lot for taking selfies to post on social media or to share with friends and family. But the iPhone light ring has far more ways to be used than just for selfies.
Group Shots
Next to selfies, group shots are also a great hit on social media. It makes it possible to take a great group shot even if you are inside or when it's dark outside. And best of all: it makes everyone look good. The lighting doesn't create any harsh lines or shadows and gives everyone in the shot the chance to shine.
Flay Lays
Flay lays are very popular on Instagram. So much so that they have their own hashtags on the platform. Taking a good flay lay is quite the art form and lighting is key here. That is why the ring light is so crucial for taking a good flay lay picture. The lighting hits from just the right angle and it doesn't create any unwanted shadows.
Food Photos
Pictures of food are very popular on social media apps like Instagram, Facebook, and Pinterest. Taking a good food photo isn't as easy as it looks. You need the right setting, the right angle, and great lighting to make the magic happen. With an iPhone light ring, you got the lighting part covered. No more stressing over bad lighting or snapping quick pictures before the natural daylight disappears.
Beauty Shots
Beauty bloggers and vloggers use a lot of close-up shots of makeup looks and before and afters to share on their blog or social media channel. The lighting needs to be just right to make their face come alive and look radiant. With a selfie light, you can do just that. The light will always make your face look bright and your makeup look will be the star of the show.
Videos
Instagram reels, Facebook Live, and TikTok have never been more popular. More and more influencers are creating videos to captivate the attention of their audience and to gain followers. To create a good video, you need good lighting. Luckily, the selfie light is also suited for this. With the ring light, you can create videos whenever and wherever you want. You will always look good and you are no longer restricted to a certain location or setting when it comes to shooting videos.